Small animal Ventilator Minivent Harvard 845

The newly developed MiniVent Model 845 ventilator is a quiet, compact and lightweight ventilator designed specifi- cally for mice. It is designed specifically for mice but can be used for any animal (e.g. birds and perinatal rats) which requires tidal volumes in tube range of 30 to 350 µl and respiratory rates of 80 to 400 breaths per minute.

​The unit is compact and lightweight, just 1 kg (2.2 lbs)! The newly developed MiniVent Model 845 ventilator is a quiet, compact and lightweight ventilator designed specifically for mice. It is designed specifically for mice but can be used for any animal (e.g. birds and perinatal rats) which requires tidal volumes in tube range of 30 to 350 µl and respiratory rates of 80 to 400 breaths per minute. The unit is compact and lightweight, just 1 kg (2.2 lbs)!

New Look Ventilator, featuring:

• Ideal ventilator for mice
• Stroke volume range from 30 to 350 µl
• Ventilation rate from 60 to 400 strokes/minute
• Simple adjustment of stroke volume while running
• Valve less piston pump, no valves to clog
• Very small instrument / circuit dead space volume
• Compact construction, easy to install close to animal

---
Ventilator for mice & rats Ugo Basile 7025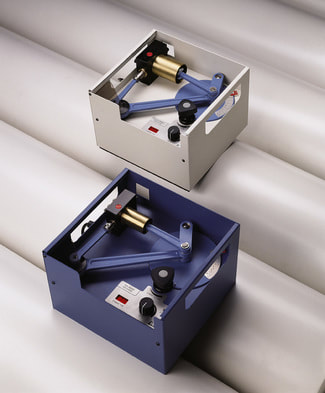 General
The 7025 Rodent Ventilator is a volume-controlled me- chanical ventilator (according to Starling's ventilator method), designed for use with rats, guinea pigs, mice and small birds.

The 7025 drive consists of a variable speed geared motor linked by a novel variable stroke mechanism to easily interchangeable cylinder/piston assemblies.

In particular, the 7025 can be equipped with 5, 10 or 30ml cylinder/piston assembly.

It's precisely regulated geared-motor speed provides the most accurate and reliable stroke rate control of any respirator available.

The operation of the 7025 may be "paused" by an ex- ternal TTL logic signal.

The picture features a Rodent Ventilator 7025, together with the 6025 for Cat/Rabbit.
---
---
Ventilator for mouse Ugo Basile 28025

General

This new Respirator, which completes the well known Ugo Basile line of Ventilators, features:-

• The tidal volume, in the range 0.1 - 1 ml (or 0.05-0.5 with the smaller piston installed), can be selected via its knob either while the pump is running or at a stands- till. The stroke volume scale is ample, provided with precise engraved marks.

• The rate, selected by a knob, is indicated by a 3-digit solid state display, in the range 60-300 strokes per minute.

• Suitable channels and ports provide the witching of the air flow, with practically no dead space.

• A unique variable stroke linkage mechanism operates the piston.

The reciprocating motion is adjusted and transmitted to the piston by rods and articulated joints only, which leads to minimal wear, no backlash, silent operation and exact stroke reproducibility.

The instrument is compact and light, cm 20 x 13 x 18.5 and 2.5 Kg, and it is self-contained: in other words, it embodies its power supply, which feeds the geared mo- tor, its feedback controller and the rate display.

The Connection Square

As illustrated in the drawing above and pictured below, a connection square of four ports include:

​

1. intake of air or other non-explosive gas mixture

2. delivery of air to the animal lungs

3. return air from animal

4. exhaust, for sampling, partial recycling, testing posi- tive expiration pressure, etc.

So closely packed, that the connection tubes are cut in different lengths, to ease the insertion of the tubing.

Please contact us for more information

---
---
Breathing system (manual) for Mouse ventilator PS-0848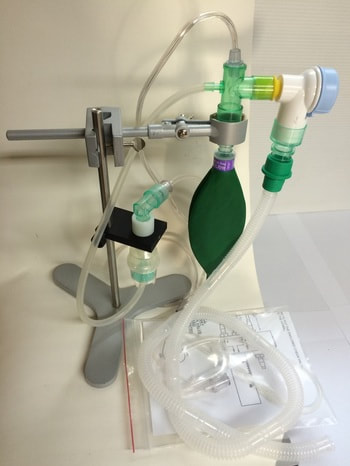 Our breating system on stand with valve and humidifier is our latest development.

It helps the user to control the flow on the breathing circuit manually connected to the Mini-Vent Harvard mouse Ventilator. It can be used with other mouse and rat ventilators.

​In addition a small wire kit will be included to connect the system to the ventilator.

---