Overview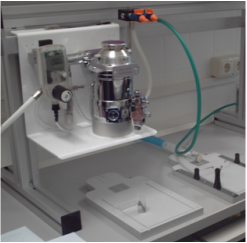 Especially designed for research field, we have different surgery tables, Heating and anesthesia gas evacuation systems available. With these different accessories you will find a perfect solution to perfom your surgeries. These systems can be added to existing or to our combi-vet anesthesia system.

---
---
System 1

combi-vet® Surgery table standard

For research, we have a standard surgery table with side holder for elastic rubbers or with a left or right side metal frame for FST clamps and holders. Please consult the FST General Catalog. The table comes with a mask system for mice or small rats.

Size 190 x 270 mm, working space 190 x 140 mm, 20 mm thick, easy washable as well as autoclavable. An optional fan with power supply can be connected to the downdraft anesthetic gas.


Order-Nr. PS-0452-FST Surgery table FST
Order-Nr. PS-0452-SM Fan with power supply
110 - 240 V/1,5 A DC

combi-vet® Surgery table standard with Physitemp temperature controller unit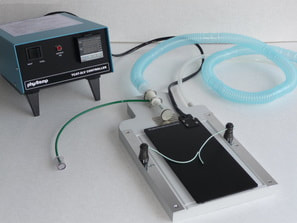 The heating plate is controlled by a Physitemp temperature controller unit and a rectal probe is controlling the body temperature on mice or rats. The size of the heating plate fits our standard surgery table PS-0451 or PS-0451-FST

Order-Nr. TCAT-2LV Temperature controller T-CAT
Order-Nr. HP-1M Heating plate for T-CAT System
Order-Nr. RET-3 ISO Isolated Rectal Probe for mice
Order-Nr. RET-2 ISO Isolated Rectal Probe for rats

---
Instruction manual for Surgery Table

---
New Mask system for mice and rats

Overview

Our new mask system simplifies the anesthesia in mice and rats. The separate gas inlet as well as the gas outlet
shown on picture are divided and not together in a hose. That means you can turn the outlet tube for the gas
scavenging in any position and it makes the surgery handling easy. There is no need of a diaphragms anymore and
the gas will be evacuated from the inlet part.

You can use the mask system with the Mask stabilizer
or it can be placed on our surgery table from our program.

MOUNTED ON OUR SURGERY TABLE

Order-Nr. PS-0310 Mask system for mice
​Order-Nr. PS-0311 Mask system for rats

---
System 2

combi-vet® Surgery table with metallic frame and Safecontrol «Economy» Temperature controller for mice

3 features - all in one Surgery table, Heating system and Gas evacuation
Another surgery table is our new developed set. The modular system can be step by step adjusted to your needs. It is available with a Temperature Controller and a incorporated heating pad build in under the metallic frame. It will deliver a constant temperature between 36 C - 38 C. The size is 190 x 230 mm and the working space is 100 x 100 mm, 20 mm thick. The stainless steel plate is 1,8 mm thick A mask system for mice & small rats is mounted on a metal holder to the table. In addition, the anesthetic gas will downdraft from each side and under the mask. The exposure for users to anesthetic gas will be reduced to a very low level.

---
Module 1 Surgery table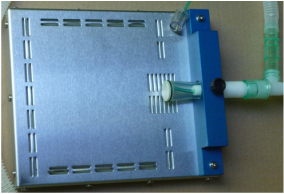 Order-Nr. PS-0703 SM
Surgery table small for mice without heating plate

Order-Nr. PS-0703 HP
Surgery table small for mice with heating plate

Order-Nr. PS-0704
Metal holder mounted on plate with Mask for mice or small rats Mask diameter is 20 mm, It will fit PS-0703 SM and HP version

---
---
Module 2 Gas evacuation fan system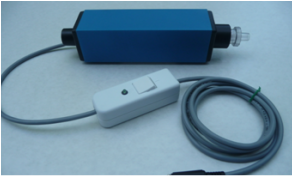 Order-Nr. PS-0452 Set
Fan with on/off switch on cable, without power supply

---
---
Module 3 Temperature controller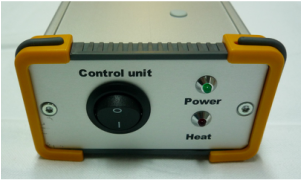 Order-Nr. PS-070-A
Temperature Controller unit with Power Supply
110 - 220 V 1,7 A EN 60601/1

Order-Nr. PS-0545
Power supply only
​110 - 240 V/1,7A EN60601/1

---
---
System 3 RWD Temperature Controller unit

combi-vet® RWD Thermostar Temperature controller for mice & rats and reptiles

available with 2 heating pads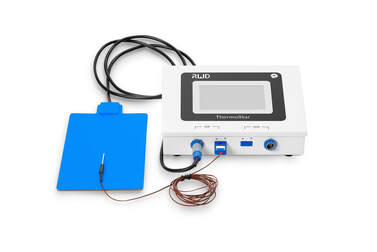 The new generation of Thermostar temperature maintenance device USES a 4.3-inch color LCD touch screen, beautiful appearance, lightweight, easy to operate, real-time display of temperature measurement, temperature setting, heating state, running state, fault warning and other functions, and can give two small animals at the same time, and independent operation. The main control module monitors the temperature of heating pad and anal temperature probe in real time, and the independent circuit controls the heating pad and anal temperature probe respectively to achieve double safety protection, ensuring the stability and safety of the instrument.

---
Thermostar Temperature Controller with Rectal probe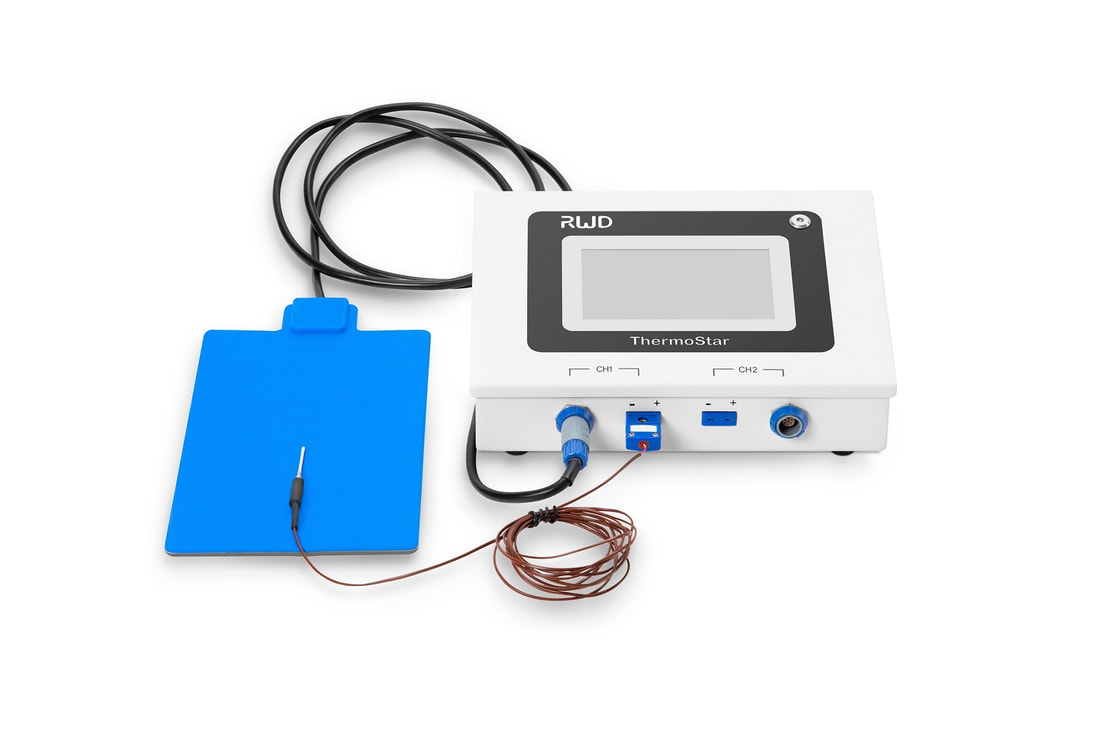 Features

Real-time display of the working status of the heating pad, and monitor
the working state of every channel show: IDLE WARNING, STAND BY, WORKING

Technical data:

Heating rate: 20 - 45 C 0.1 C resolution, Degrees Celsius or in Fahrenheit can be switched
Power supply: 100 - 240V, 50/60 Hz CE/UL approved
Control unit size: L205 x W148 x H80 mm
Control unit size weight: 1,3 kg

TO ORDER:

Complete System as set:

Order-Nr. 69020 ThermoStar Temperature, Controller 69023 pad included
Order-Nr. 69026 ThermoStar Temperature, Controller 69024 pad included
Order-Nr. 69027 ThermoStar Temperature, Controller 69025 pad included

Temperature probe

Order-Nr. 69022 Temperature Probe
1,5 mm diameter 30mm length, the length of the probe is 200cm

Heating pad

Order-Nr. 69023 Heating pad 12,0 x 20,5 cm
Order-Nr. 69024 Heating pad 9.0 x 17.0 cm all black connecting cables are 150 cm long
Order-Nr. 69025 Heating pad 7.0 x 10.0 cm


---
---
---
Delta-phase® Iso-therm pad

The Deltaphase® Isothermal Pad is a new approach to body temperature stabilization. It acts as a source of heat, but cannot overheat. Its constant temperature is based on a thermodynamic principle and needs no elec- tricity or wires, no thermostat or feedback controller.

It cannot generate electrical signals or cause interfe- rence. It cannot trigger an explosion. It can maintain a small animal at near normal and constant temperature for several hours. The Deltaphase® Isothermal Pad is based on the thermodynamic principle that a heat releasing phase change is isothermal, that is: that it oc- curs at constant temperature. A unique chemical solu- tion is contained within a durable pouch. At room tem- perature, this solution is in solid form. When heated to 39° the solution becomes fluid. In this state, the pad is activated and ready for use.

This heat flow balances heat losses and maintains ani- mal body temperature near 39° for periods up to seve- ral hours.

DELTAPHASE ISOTHERMAL PAD for 37° temperature stabilization during laboratory and veterinary procedures.

ACTIVATION
Contents of fully activated pad are fluid and transparent. For slow activation keep pad in 40°C oven or water bath until needed. Pad can be activated rapidly in boiling water or microwave oven. To prevent overheating mix contents when partly activated and remove from heat immediately when contents are entirely transparent.

Order-Nr. PS-0811
pad size 20 cm x 20 cm x 0.65 cm

---
Table stand for humidifier system or stand for Multi Delivery Flowmeter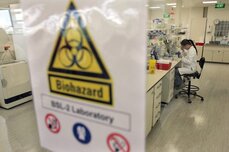 This handy table stand is perfect to mount a humidifier system or flowmeters. You can use this table stand for other accessories.

Order-Nr. PS-0810
Table stand special

Please contact our Sales Departement.

---