Mobile Anesthesia machines for veterinarians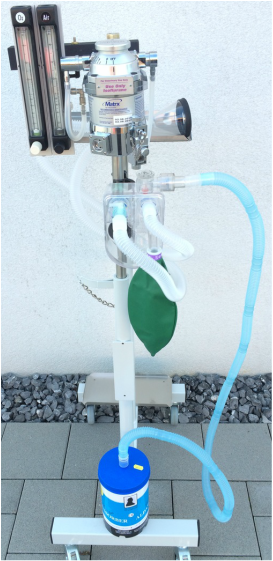 For your veterinary cabinet we are glad to introduce our new easy to use anesthesia machine with C02 Absorber for small domestic animals such as cats and dogs.
The C02 Absorber can be disconnected easily and connected directly to a small animal under 15 kg.
The machine will be shipped in a large shipping box and can immediately be operational.
The complete anesthesia trolley has a holder in the back for 2 gas tank and comes with following parts:
1 Flowmeter 02 0.1 – 4 l/pm
1 Flowmeter AIR 0.1 – 4 l/pm
1 Vaporizer TEC 3 Isoflurane with Key-filler CE
1 Key Filler bottle adaptor
1 Pressure manometer 02 Gloor
1 complete stand trolley
1 overflow valve for safety
2 Aldasorber
2 Holder for Aldasorber 1400 g
1 C02 Absorber unit Darwall with bain system mounted on the trolley
1 Mask for small dogs (other mask on request)
1 Evacuation hose for mask system connected to the Aldasorber
1 plate for placing 02 cylinder in the back (please contact your local gas supplier)
1 metal surface for placing other monitoring units
Other machines with only 02 Flowmeter are also available on request.
---