Special mask for mice, rats, hamster, guinea pig and reptiles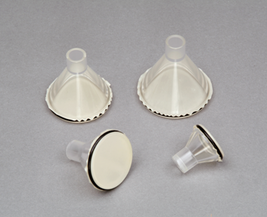 The diaphragms on these masks seal the mask around the face of the rodent and reduce the amount of anesthetic gases that may leak into the room.

Facemask diaphragms are made from latex sheet and openings can be cut the diaphragm to accommodate rodents of different sizes.

Mask only

Order-Nr. PS-0525 for mice diameter 2,5 cm
Order Nr. PS-0305 for mice diameter 3,0 cm
Order-Nr. PS-0306 for rats diameter 4,5 cm
Order-Nr. PS-0307 for rats diameter 5,0 cm
Order-Nr. PS-0308 for rats diameter 5,5 cm

---
---
Complete set with replacement latex sheet and inlet/outlet adaptor
​for gas inlet and gas evacuation hose

Order-Nr. PS-0525-A for mice diameter 2,5 cm
Order Nr. PS-0305-A for mice diameter 3,0 cm
Order-Nr. PS-0306-A for rats diameter 4,5 cm
Order-Nr. PS-0307-A for rats diameter 5,0 cm
Order-Nr. PS-0308-A for rats diameter 5,5 cm

---
Mask stabilizer

Mask stabilizers are made from stainless steel for easy sterilization, this weighted stabilizer keeps the none rebreathing system and face mask in place while working with rodents.

Order-Nr. PS-0322 Mask holder

---
New Mask system for mice and rats
Overview

Our new mask system simplifies the anesthesia in mice and rats. The separate gas inlet as well as the gas outlet
shown on the picture are divided and not together in a hose.
That means you can turn the outlet tube for the gas scavenging in any position and it makes the surgery handling easy. There is no need of a diaphragms anymore and the gas will be evacuated from the inlet part.

You can use the mask system with the Mask stabilizer
or it can be placed on our surgery table from our program.


1. STANDARD

---
2. MOUNTED ON OUR SURGERY TABLE

Order-Nr. PS-0310 Mask system for mice
Order-Nr. PS-0311 Mask system for rats