Posi-Seal Induction chambers (Anesthesia box) for mice, rats and reptiles

For preparation of anesthesia procedures we offer two sizes of Induction chambers for mice, rats and reptiles. The Posi-Seal Mouse and Rat Induction Chambers fea- ture positive locking latches and a silicone seal that makes these durable induction chambers leak proof when use.

Order-Nr. PS-0344 Induction chamber for mice size: 140 x 90 x 70 mm

Order-Nr. PS-0345 Induction chamber for mice
size: 180 x 130 x 85 mm

Order-Nr. PS-0346 Induction chamber for mice size: 230 x 200 x 100 mm

Order-Nr. PS-0347 Induction chamber for rats size: 280 x 230 x 140 mm


---
New x-small induction chamber

The new induction chamber for mice is made from acrylic material. The wall thickness is 8 mm and the ground plate is white. The closure and opening latch is easy to use. A smooth locking device enables fast locking and unlocking with a handle.
At same time the box is very tight. Standard 15/22 mm hose connections for input and output anesthesia gas are also provided. The chamber with hinged lid is fitted with a molded seal on the container.

The box comes with a 22 mm hose and 6 / 22 mm adapter.

Order-Nr. PS-0345 small induction chamber
size 240 x 140 x 120 mm

Other larger sizes are also available on request.
Hooded Induction chambers made from acrylic glass with or without fan system
new Hooded Low Stress Induction chamber in red

---
The Vapor-Vac hooded induction chamber works with active vacuum waste gas management systems by allowing room air to be drawn into the waste anesthetic collection system as well as the waste gases from the induction chamber. If room air is not allowed to be pulled into the waste collection system, the vacuum will pull most of the fresh anesthetic gas out of the induction chamber before the animal is able to be anesthetized.

The fresh and waste anesthetic gas inlet and outlet adapters are easy to connect. The gas outlet adaptor can be connected to the EVAC tubing for F/AIR Filter or to any scavenge system.

Optional the induction chamber is available with an external ventilator/fan connected to a 12V / 2A 110- 240 VAC power source. The fan will immediately scavenge the anesthesia gas with an on/off switch on the cable. This safety feature helps to reduce the amount of anesthetic gas which could be a hazard for the user.

Order-Nr. V105 Red Induction chamber for mice
in red
size 310×150×190mm.

Order-Nr. 78933385 Induction chamber for mice
size 300 x 200 x 150 mm

Order-Nr. PS-0452-LG External ventilator/fan connected to a 12 V/2A
power supply

Order-Nr. PS-582 Evac tubing for F/AIR Filter or Aldasorber 1.8 m
with connectors for Induction chamber and Filter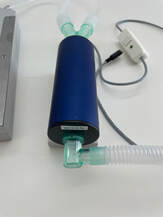 Here are some useful videos, how to prepare mice for surgery:

---
Special Induction chambers with 4 separators and fan system made from acrylic glass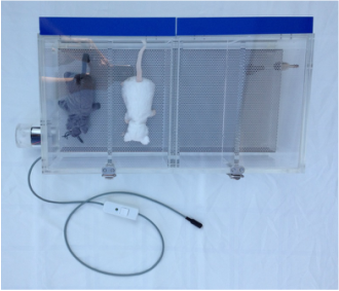 A special designed induction chamber with 4 separa- tors for multi mice use. An integrated fan system is attached.

Order-Nr. PS-0347 AP-4

Induction chamber for mice / rats
with integrated fan and power supply
size 450 x 240 x 160 mm

---
---
Imaging chamber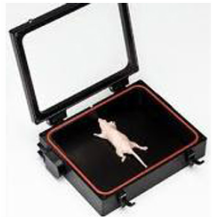 The chamber is designed to be used with most optical imaging systems. The body of the chamber is made from black acrylic material.

The viewing port is manufactured from an optically clear, scratch resistant cell cast acrylic sheet. Light transmission is 98 % and the viewing port is field replaceable should it become damaged from use.

A silicone gasket positively seals the chamber against leaks and the single latch allows investigators to open and close of the chamber with one hand. Three dividers are provided with the chamber to allow imaging of up to four rodents at one time. The chamber comes equip- ped with two of our standard 15 mm i.d. X 19 mm o.d. induction chamber adapters or optionally with a single Coaxial Flow Induction Chamber Adapter.

Adapters can be installed on the rear or sides of the chamber per your specifications
---
---
Special Induction chamber for tail vein injection for mice
The University of Freiburg im Breisgau, Germany Dr. med. vet. Sebastian Gehrig and in co-operation with the Society for the Promotion of Research at the Albert-Ludwigs University and the University of Freiburg, developed in 2011 a special induction chamber for tail vein injection for mice.
Introduction

After the tail is led through the intended opening, a contra pressure to the foamed plastic will help to establish a vein rope. This means, that the injection procedure will be clearly simplified. After that, it's possible to handle the tail vein without any further problem. Usual procedures, such as warming-up the tail are not necessary anymore.

Advantage of the Induction chamber

By the low volume size of the induction chamber the anesthesia enters fast and stressless. Another advantage is certainly the accuracy and simplicity of the injection in the tail vein. The injection with anesthesia in mice provides furthermore identical test terms and contributes comparable and reproduceable results. The number of the unsuc- cessful attempts will lower considerably. Also the time where radioactive material must be handled for the user. Another excellent advantage is the time reduction for these standard procedures.

Sizes of the Induction chambers
Body part grey: 100 x 160 x 25 mm
Chamber in acrylic material 60 x 120 x 50 mm
Size chamber inside 80 x 140 x 40 mm
The Induction chamber is made from a very special PMMA
acrylic material (1 cm thick) and has a determing advantage of the addtional ray protection
for the user of - and – radiation (no y– radiation)

Order-Nr. PS-0351-SIK Tail vein induction chamber complete with anesthesia hose inlet and blue evacuation hose for connection to a F/AIR Filter or evacuation fan system

How to use the special Induction Chamber: Watch the video below: